Archiv der Einträge: Dezember, 2008
Keine Einträge zu diesem Datum gefunden.
Alright now, so you came here for some decent pictures of naked girls, some sex, vaseline maybe, sorry, wrong page this time, maybe you should work on defining your internet searches. If you like to shake your belly to some decent Punkrock and Powerpop sounds and pogo your sweaty socks off, well, you have come to the right place, as we are planning to annoy you with some more mindless babbling about the best Punkrock and Powerpop Bands of today and yesterday. If you remember we already had our try when this blog has been deleted within only about 24 hours due to advertising reasons, yes, the world of free speech is a happy world and if we´ll make it 48 hours this time we´ll have a lemonade or two to celebrate or we´ll just start one of those important blogs about petting our hamster, who knows. Until then you´ll have to handle with a sexually explicit nicotine addict watching trashy 80ties movies about beer, beach, babes, highschool and the first tongue kiss experience while listening to the Rezillos in his Flintstones pyjama eating tons of unhealthy food and getting just a little fat but still buying too tight T-Shirts.
KOMPLIKATIONS
Step Forward 12"
ROCKSTAR RECORDS



Ever wondered how it would have melted your braincells if the Masters Of Synth-Punk from L.A., the legendary SCREAMERS would have put out a regular record in their hightimes ?
Then do yourself a favour and enrich your boring life by buying this 12" from the KOMPLIKATIONS, as they continue at the same point that the L.A. legend left off with burners like "122 Hours Of Fear", "Vertigo" or "Peer Pressure", so kneel down, stare in awe and be taken aback.



THEE SPIVS
The Crowds And The Sounds LP
DAMAGED GOODS RECORDS



Top Notch East End Yobbo Pop that John Peel would be willing to return from his grave for only to do a special broadcast of these band´s Howard Devoto like MAGAZINE genius having re-recorded the TV PERSONALITIES Album "And Don´t The Kids Just Love It" with the pop sensibility of the BUZZCOCKS and the NOT SENSIBLES not only falling in love with Maggie Thatcher but also deflorating THE TIMES on an Andy Warhol poster.


CRAZY SQUEEZE
Same LP
Wanda Records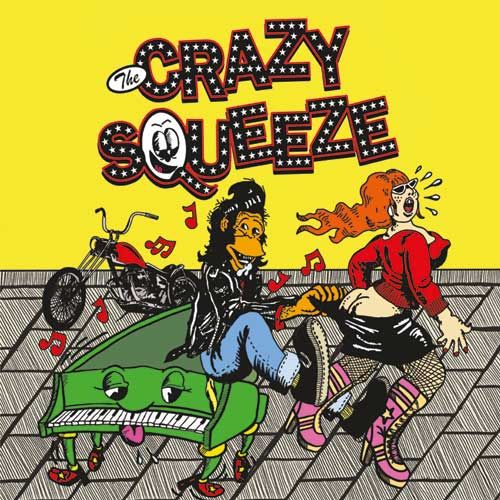 Like A Motherfucker down to kill in the juicy womb of a five Dollar whore THE CRAZY SQUEEZE carry on with the legacy of all you ever admired about David Johansen, Sylvain Sylvain, Killer Kane, Jerry Nolan and Johnny Thunders and shake it up with a healthy dose of DR. FEELGOOD and EDDIE & THE HOT RODS being infused into the veins of Keith Richards mixed up with a dozen bottles of Wild Turkey. Besides this already making you want to steal your grandma´s savings and gamble them away in Las Vegas being high on Speed, they also manage to incite you starting up a blue eyes and broken bottles bar brawl with the whole MOTT THE HOOPLE line-up.


MARCHING ORDERS
Living Proof LP
CONTRA RECORDS



If THE BUSINESS would have recorded "Welcome To The Real" world with the sheer aggression of their early output and echos of the STIFF LITTLE FINGERS through a ROSE TATTOO distortion pedal it would have sounded just like this. Adding the lyrical class and integrity of RED ALERT this band has reached the top of their game and is one that only very few are able to mess with.